India's DGCA frets over more loss of control incidents
India's aviation regulator has identified airprox incidents, runway incursions and unstable approaches among its eight safety priorities, following a spike in cases during 2018.
The Directorate General of Civil Aviation (DGCA) has also flagged in-flight loss of control as a new area of concern, following a two-fold increase in incidents.
It notes that while there have been no fatal accidents involving commercial airliners under its jurisdiction, incidents involving the eight areas of concern have exceeded or breached targets.
In 2018, there were 1.54 loss of control incidents per 10,000 departures, nearly twice the 0.64 incidents per 10,000 departures recorded the previous year.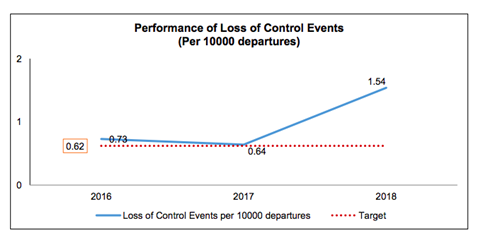 The DGCA classifies loss of control events as including low speed during approach and cruise; bank angle exceeding the maximum permitted; and windshear below 500ft.
"Loss of control events have shown an increase and have emerged as an area of focus," the DGCA states, but does not elaborate how it is intending to address the issue.
The DGCA data also reveals an increase in the overall number of airprox incidents: during 2018, there were 16.2 cases per 1 million flights.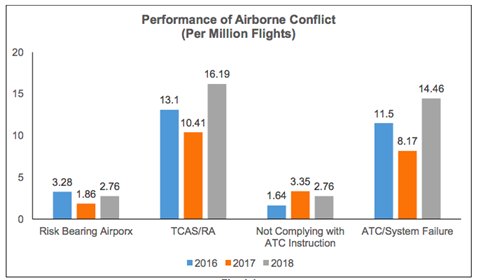 Risk-bearing airprox incidents increased year on year, with number of cases exceeding targets set. In 2018, there were 2.76 such cases per 1 million flights, up from 2017's rate of 1.86 cases and above the DGCA's target of 1.8 incidents per 1 million flights.
The agency notes, however, that the number of loss of separation incidents over Indian airspace has decreased.
It adds that the main cause for airprox incidents are air traffic control or system failures. In 2018, there were about 14.5 incidents per 1 million flights, a marked increase from 2017's 8.17 cases.
To this end, the DGCA has tasked the country's air navigation service provider with reviewing the figures and developing measures to address the rise in incidents.
Unstable approaches also rose year on year to 7.79 incidents per 10,000 approaches, up on 2017's figure of 6.28, and above DGCA's target of 6.1 incidents per 10,000 approaches.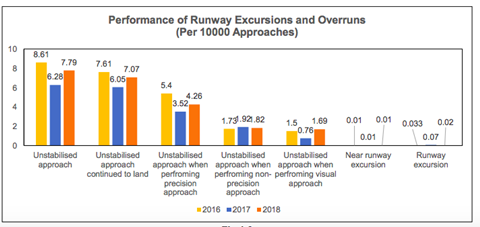 Nearly all the aircaft involved in unstable approaches continued with their landing, it adds.
The DGCA, which states it adopts a "non-punitive policy" towards go-arounds, adds: "All such occurrences are being investigated and corrective actions are being applied."
The agency has also flagged the rise in the number of runway incursions, particularly those caused by other aircraft and vehicles.
2018 saw 12.8 runway incursions by aircraft per 1 million aircraft movements, up from 7.95 in 2017.
There were also 2.71 runway incursions caused by vehicles, a significant jump from 2017's 0.42 per 1 million aircraft movements.
The DGCA identifies the three main causes as a loss of situational awareness by pilots, non-familiarisation with aerodrome layout, as well as complicated airport and/or taxiway design.
Moving forward, the DGCA will increase safety training, as well as "performance based oversight which focuses on achieving the desired performance".
"This will lead to a more active involvement and interaction of all players in managing the aviation safety system," it adds.